There are around 2,500 funding programs in Germany – for companies, public organizations, individuals and associations. In addition to federal funding programs, each federal state has its own funding landscape. Whether you want to start a business, increase IT security of your company or develop an expensive innovation – there is a big chance to find a suitable funding program. Of course, every grant and funding program has its own conditions, eligibility criteria and bureaucratic hurdles. Evaluating this takes time, because this information can often be found only in the lowercase. Application processes can be tedious and time-consuming. With my support, you save time for monitoring the funding landscape and for researching funding and legal conditions. I will help you to define your project according to the guidelines and to present it in a project application. In addition, I will brief you on the requirements for project documentation and possible audits, so that you can start your project immediately after the positive funding notification.
Innovation funding for German start-ups & SMEs
The German federal government supports start-ups and medium-sized companies in order to ensure viability of Germany as a business location. Numerous funding programs, e. g. for digitization or start-ups with a comparably low level of funding, have low application hurdles. Interested parties can find out about suitable funding programs in the federal funding database and use the competent advice offered by the German federal government and the implementing partners of the funding program. However, when it comes to funding programs for innovation development by means of industrial research and with high funding amounts, things get more complicated. Guidelines for funding programs, such as ProFIT or the Central Innovation Program for SMEs (ZIM) and the numerous industry-specific funding programs, are complex. The effort involved in submitting an application often exceeds existing capacities of companies, in parallel to everyday business. Funding quotas often rise from around 50% to up to 80%, if the company cooperates with a research institute in a joint project. But how to share intellectual property (IP) and rights of use of the innovation? My funding consultancy has already helped a number of companies to receive a positive funding notification and I will help you to clarify these questions. With the input of your experts, I can also work out your application.
Tender management
Participation in public tenders can provide companies with lucrative contracts and can help the market entry. Supplying equipment and services to German ministries and subordinate authorities is just the beginning, because the European Union, with its numerous institutions and projects, has a great need for procurement. On the other hand, there are procurement programs from international organizations such as the UN, the World Bank, the Asian Development Bank and many more. Each of these institutions has its own tender platforms, eligibility criteria and assessment guidelines. Once you have an overview of these and found a suitable tender, creating a tender offer is a small project itself. In workshops tailored to your needs, I will introduce you to important tender platforms and the associated guidelines to find the right tenders for your company. With my many years of experience in public tender participation, I can support you in preparation of the tender proposal. By the way, you can get a good overview of the market and your competitors from the lists of contracts awarded by public institutions – I'll show you how to find these lists and how to use them for your advantage.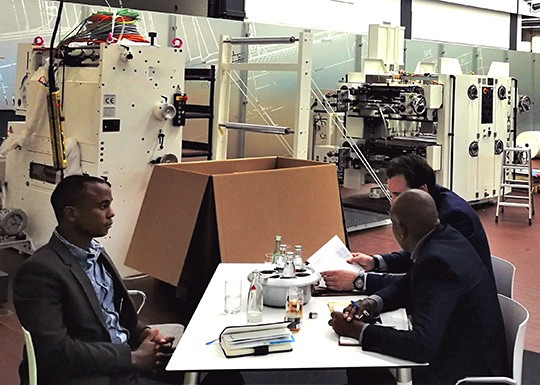 Chances for companies in development cooperation programs
In recent years, international development cooperation (DC) organizations have made increasing efforts to cooperate with the private sector. In DC projects of the German federal company Gesellschaft für Internationale Zusammenarbeit (GIZ) GmbH, German companies have the opportunity to assume social responsibility and to enter new markets, at the same time. With a turnover in the billions and with almost 25,000 employees worldwide, the daughter company of the German Federal Government is one of the largest DC organizations worldwide. GIZ carries out projects in 120 countries with a focus on environment, trade, energy, nutrition, mobility, finance, tourism, construction, education and much more. In these projects, partnership with German companies is desired – whether as a technology supplier, as a consulting company or as a private-sector partner of vocational education and training on site. As a company, you can submit project proposals and applications to DC organizations or participate in tenders for existing projects. I can provide you an overview of the numerous DC programs, projects, organizations and tendering platforms. And once the project is up and running, I'll help you master the challenges of managing third-party funded projects.