I have been working in DC projects since 2012 – as a trainer, consultant, team lead, evaluator or integrated expert. I have not only worked for German DC organizations, such as GIZ GmbH, but also for the Swiss Development Cooperation and for the United Nations Development Program (UNDP). I successfully use my experience and language skills (German, English, Russian and French) in capacity building, consulting and matchmaking of companies and organizations, especially in Eastern Europe, Central Asia, North and East Africa and in the MENA region. I work in consortia with my consulting partners and as an individual consultant. In the project references presented, you can find out more about the regions and project types that I am specialized in.
Capacity building
Today, capacity building is one of the most important methods used by DC organizations to strengthen skills, competencies, resources and processes of companies and organizations. Since 2012, I have been developing skills of DC beneficiaries in numerous trainings, workshops and other consulting formats, mainly in Africa, the MENA region, Eastern Europe and in Central Asia. I implement capacity building with a participative and interactive approach. In contrast to private-sector clients, needs and objectives of stakeholders in DC projects are often not fully clear at the beginning of the project. With the help of analogue and digital instruments, I therefore first do a decent evaluation, select appropriate methods of capacity building in consultation with the client and conclude the project with well-structured reporting and clear recommendations for the future.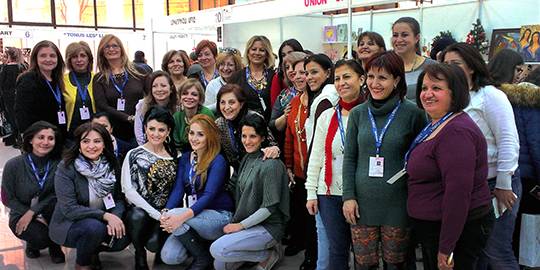 Organizational development
As a former managing director of the German-Armenian Business Association, I am specialized in the development of Business Support Organizations (BSO). This includes development of a service portfolio that serves the needs of local companies and promotes their growth. Whether it is a membership association or a start-up funding organization, the needs of the companies must be analyzed, the pricing model for the services developed, and appropriate processes set up for the BSO. A marketing and communication plan is often also necessary in order to demonstrate the services of the BSO and the added value to the companies. To be able to advise the companies on market analysis, export, marketing, innovation development or certification, a concept for competence development of the BSO employees has to be set up. Check out my reference projects on developing BSOs in Armenia, Georgia, Jordan, Uzbekistan and other countries.
Regional development
A challenge of the economic development of regions is the management of political, economic and civil stakeholder groups. The design and organization of sustainable and recurring private-public dialogues (PPD) can lay the foundation for the economic strategy of a region in which the interests of different stakeholders are adequately represented. Especially in the Caucasus and Central Asia, I have already designed PPDs with representatives of the government, SMEs and NGOs, which have served to define key industries and to conduct an economic SWOT analysis of the region. In a team of consultants, we then used results of such dialogues, interviews and further analyzes to develop the regional economic strategy in line with national strategies.
Project evaluation
Evaluation is part of each of my projects – whether a company training or an organization development project – a careful needs assessment, documentation, reporting and obtaining feedback from stakeholders is essential. At the same time, I have conducted several project evaluations for GIZ, UNDP and others. These include evaluations of develoPPP projects and Central Project Evaluations (CPE) based on the OECD/DAC criteria. I am experienced in developing questionnaires and conducting interviews and focus groups. I also have in-depth knowledge of designing and facilitating workshops that serve to assess needs of stakeholder groups, e. g. for setting up new projects.